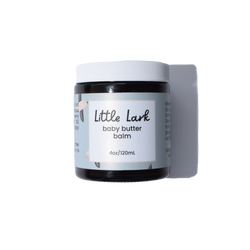 Lark Skin Co.
Little LARK Baby Butter Balm
COMING SOON! This balm is specially formulated to be gentle and soothing for delicate baby skin, providing hydration and comfort with a calming natural aroma. It contains moisturizing Organic Shea Butter, which helps to nourish and replenish the skin's natural moisture barrier, along with delicate oils like Grapeseed and Coconut to add hydration. The cream also includes a blend of soothing Lavender, Orange Blossom, and Roman Chamomile distillates, which work together to provide a soft and calming natural aroma.
One of the key highlights of this cream is its ability to soothe and calm sensitive skin, making it perfect for babies of all ages. It can be used as a baby cream, facial cream, or body cream, providing versatile and gentle hydration wherever it's needed. 
4oz Jar