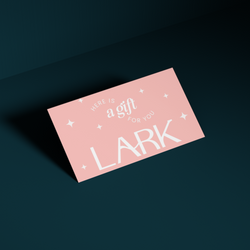 Lark Skin Co.
E-Gift Card
Our E-Gift Card is the perfect gift. Let your recipient restock her favorite product, create a custom skincare routine, or even book a relaxing treatment. Best. Gift. Ever.

E-Gift Cards are delivered by email and contain instructions to redeem them at checkout. Gift cards are non-refundable. 
Prefer tangible gift card
I suppose I didn't read the gift card description. I purchased this for a dear friend. To me, a screen print doesn't have the same impact. She didn't seem to mind but I did.
E-Gift Card
Didn't receive it in the mail
Wonderful
Can't wait to give this GC!!!
gift card review
was glad to see I could get a digital version of the gift card.