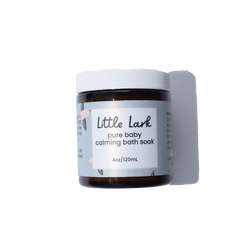 Lark Skin Co.
Little LARK Pure Baby Calming Bath Soak
Indulge in a blissful bathtime routine with our Soothing Bath Soak, specially crafted to provide a luxurious and relaxing experience for both you and your little one. Designed with clean, natural ingredients, this soak helps soothe and soften delicate skin while imparting a subtle, calming scent of Lavender and Chamomile Essential Oils.
Our Soothing Bath Soak is perfect for busy moms who want to maximize their baby's bath time with minimal effort. The formula is carefully crafted to dissolve instantly, leaving no gritty residue behind. Instead, it nourishes and boosts skin with moisturizing Allantoin, Provitamin B5, and Organic Aloe Leaf.
Ingredients: Sodium Bicarbonate, Organic Aloe Leaf, Allantoin, Provitamin B5, Zinc Oxide, German Chamomile Flower Oil, Roman Chamomile Flower Oil, Lavender Flower Oil
Amazing!
It smells incredible and has a very calming effect. We love this product and will be purchasing more for ourselves as well as for our friends who have babies/toddlers :)